San Scout roll out their new conceptual VR based campaign 'The Pharmacy' – a fully-interactive virtual world, including that delightful signature store music on a loop, that will house all upcoming releases, based around the topical concept of music as a prescription drug. Created by designer Yuma Burgess, the user is transported to the pharmacy and encouraged to explore. Discovering links to the band's artwork, unreleased demos and social pages. 'Soap' is the first song to be released via this concept, a beautifully melodic track that incorporates their gloriously glitchy bedroom pop sound and euphoric choruses.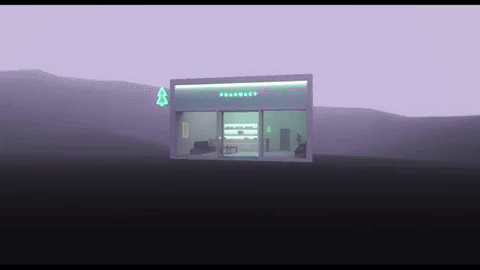 San Scout are a London-based duo, who write, produce and perform their restless, genre-bending approach to electronic, indie-pop. The duo aren't constricted to standard practice. They build online games, reality-blurring imagery and release chopped up remixes of their own tracks, creating an entire lo-fi surrealist world around them and their music. Drawing initial influence from folk harmonies, combined with a background in electronic production and a shared love for glitchy beats, the pair have created their unique, punchy yet atmospheric sound.
In October the duo caught the attention of Emma Breschi who asked them to write the music for her Vivienne Westwood 'Creatives' campaign. San Scout have received strong tastemaker support since their first singles from the likes of Radio 1, Radio X, BBC Introducing; featured by online tastemaker publications including The Line of Best Fit & Wonderland; and included in nationals such as The Guardian's 'Bands To Watch'. San Scout have been generating a loyal following on both sides of the pond, represented by strong recent Spotify support in their additions to global mainstream playlists such as New Music Friday, Chill Vibes and The New Indie Mix.
Stream, download, share 'Soap' https://awal.lnk.to/Soap
Socials
Twitter
Website
Facebook
Instagram